Online Workshop on
Transforming Corporate Compliance Culture
by Bettering Results & Manupatra
(February 4, 2023)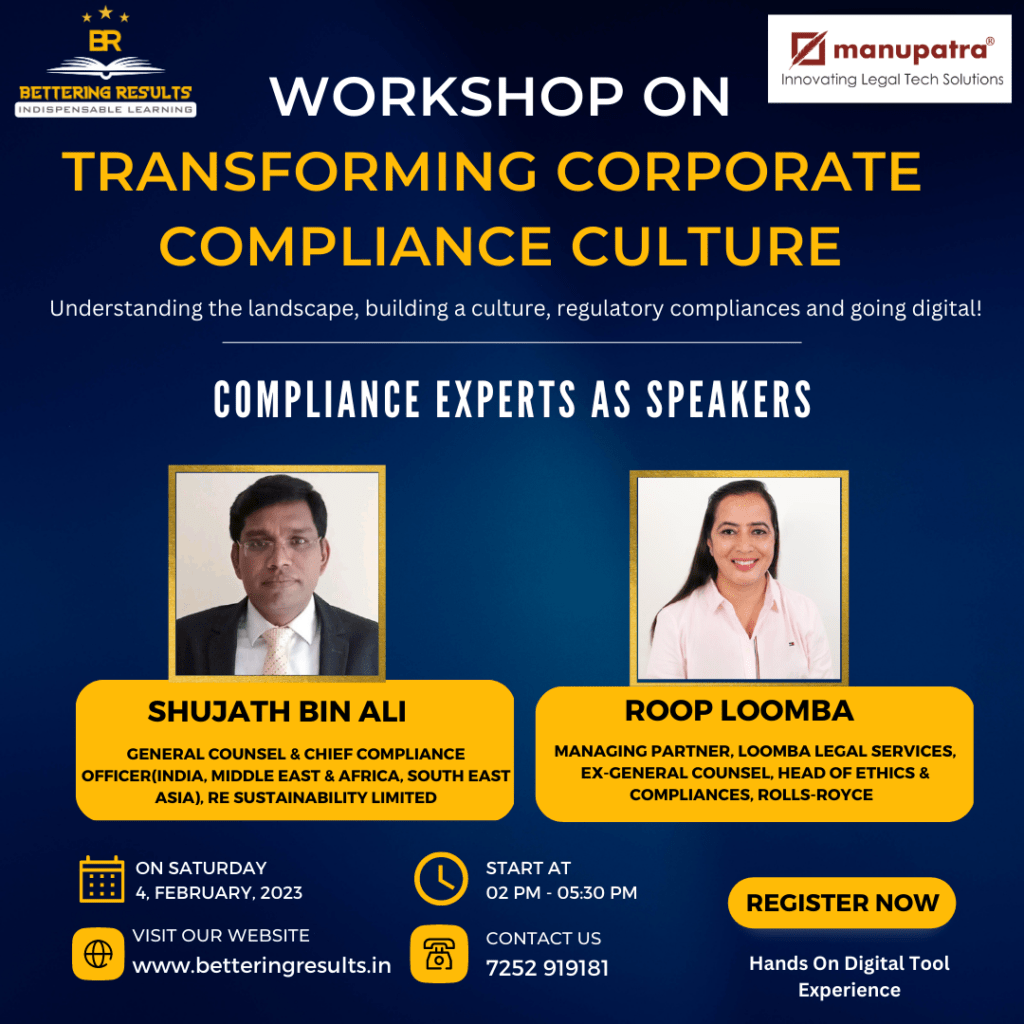 As laws and regulations are constantly changing, companies and businesses need to ensure they are compliant with the latest rules and regulations. Compliance is the process of ensuring businesses comply with all relevant regulations and guidelines. 
Compliance lawyers have to understand business and risk management in order to effectively mitigate risk and keep the business from suffering any legal issues. This can be a difficult task, but it is critical in ensuring the company remains compliant with the ever-changing landscape of laws and regulations.
If you are someone working in compliance or looking to join compliance teams of companies, this is your opportunity to learn from the top compliance experts. 
To further your knowledge in this field, Bettering Results (BR) & Manupatra are organizing a one day Workshop on Compliance with highly qualified compliance experts starting 04 Feb 2023!
SPEAKERS:
Shujath Bin Ali, General Counsel & Chief Compliance Officer(India, Middle East & Africa, South East Asia), Re Sustainability Limited
Roop Loomba, Managing Partner, Loomba Legal Services, Ex-General Counsel, Head of Ethics & Compliances, Rolls-Royce
Priyanka, COO, Manupatra
WHAT WILL YOU LEARN?
SESSION 1:
An Introduction to, and evolution of landscape in India
Types of Compliance in today's day and age
Direct and indirect consequences of non-compliance
Need for creating a culture of compliance
Role of compliance leaders; skills required
Challenges facing compliance leaders in 2023
SESSION 2:
Significance of Regulatory

Compliance

 

Relevant Regulators – SEBI, RBI,

IRDAI, PFRDA, CCI, NHB, TRAI

 

Core steps to be undertaken to

ensure Regulatory Compliance
SESSION 3:
Digital Journey of risk and compliance function: 
What do they risk by deferring digital transformation?
Challenges they can expect to face in the transformation process?
How digital compliance can increase transparency, accountability, and control?
Realtime demo to demonstrate how companies can jumpstart their digital transformation?

DURATION: 1-Day Workshop on Saturday, 04 Feb 2023 (2 pm-5:30 pm)
WHO CAN ATTEND THIS WORKSHOP?
In-house counsels
Corporate Legal Professional
Compliance Officers
Practising advocates advising companies on compliance
CA, CS, academicians, etc.
Any corporate law enthusiasts interested in learning about compliance
EXCLUSIVE BENEFITS:
Live & interactive sessions
Recording of live sessions accessible 24*7 for 1 year at your convenience.
Certificate shall be provided on completion of the workshop.
1 Week Free Access to Manucomply by Manupatra